StrandWiks Breedersgroups/class year 2004
Swedens first havanesebreeder winning BIS-breederclass!

Breedersgroups 2005!
Breedersgroups 2006!

BIS 1 Breedersclass at Högbo
SDHK National show September 4, 2004!
Judge: Bo Lasthein Andersen
& Judge at the BIS-finale: Gunnar Nyman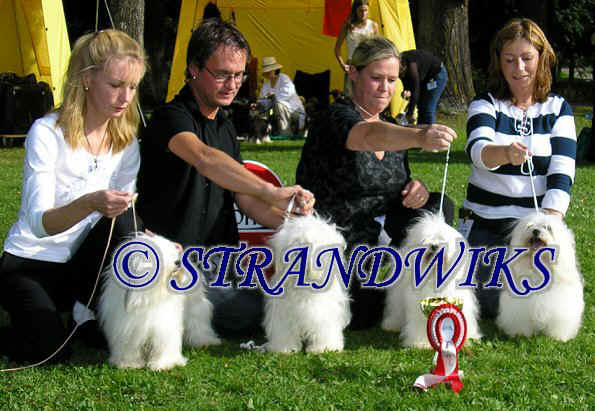 © photo: Michael Wikstrand
NO CH, DK CH StrandWiks Vicki, SE UCH StrandWiks Real Sugar, SE UCH StrandWiks Odette & SE UCH NO CH StrandWiks Estrella
The judge's nice words about our group:
~A very harmonic breedersgroup of 4 bitches. All with good size and wonderful type.
A breedersgroup much better than we usual see.
The breeder congratulates to the wonderful results.~




photo: Michael Wikstrand
NO CH DK CH StrandWiks Vicki, SE UCH StrandWiks Real Sugar, SE UCH StrandWiks Odette &
SE UCH NO CH StrandWiks Estrella

We are happy to show such wonderful dogs.
Big thank's to the owner, Maria, Anders, Monica E!
---


Bichon Bolognese & Havanese Special Show, August 7, 2004
Judge: Hans Almgren
Breedersgroup 1:a & Hp, 2'nd best breedersgroup of havaneser.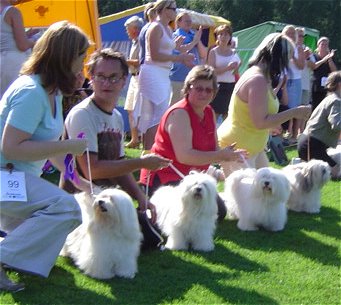 photo Åke Ohlson
SE UCH NO CH StrandWiks Estrella, SE UCH StrandWiks Real Sugar, NO CH StrandWiks Xandra, StrandWiks Xara

~A group with 3 different combinations; veteran, champion and 2 in openclass.
A very harmonic group with beautiful heads, beautiful bodies. Good sizes.
Well constructed with nice coats, pigmentations and movements.
Well done breederswork!~


---
Västerås SKK's International show July 18, 2004
Judge: Glenwyn Dymock
Best breedersgroup 1:a & Hp



photo Åke Ohlson
SE UCH StrandWiks Qenzo, SE UCH StrandWiks Real Sugar, SE UCH NO UCH StrandWiks Estrella, StrandWiks Victor
~Very attractive group. All very nice head and caracteristic proud headcarrige.
Very even for size and typ. Clever breeder!~


---
Österbybruk SKK's International show May 30, 2004
Judge: Kenneth Edh
Best breedersgroup 1:a & Hp



photo Åke Ohlson
SE UCH NO CH StrandWiks Estrella, StrandWiks Xara, SE UCH StrandWiks Real Sugar och NO CH StrandWiks Xandra
~A group of 4 females with correct proportions with good heads and expression.
Dark eyes, strong pigmentation. Nice necks and toplines. Good bodies and size.
Straight front legs. Good coats. All moves with good carriage and step.~


---
Västerås SKK's International show April 24, 2004
Judge: Gerald Hickey
Best breedersgroup with 1:a, Hp




photo Åke Ohlson
SE UCH StrandWiks Real Sugar, StrandWiks Qenzo, StrandWiks Xandra, SE UCH NO CH StrandWiks Estrella

~All very typical of the breed showing all the essentials for breeding.
These dogs have style & coat. Except for one, they are very similar.
~Best breeders!~

We want to thank the owners of these StrandWiksdogs who made this possible;
Anders Hulth & Tomas Nordkvist with SCh StrandWiks Real Sugar
Inger & Åke Ohlson with NCh StrandWiks Xandra
Lillian Sundström with StrandWiks Xara
Camilla & Robert Brånn with StrandWiks Victor
Maria Wedin with NCh, DKch StrandWiks Vicki
Monica Embretsen with SCh StrandWiks Odette