~ BIS 1 - Breedersclass ~
Högbo 2004
The first havanesebreeder who became BIS in breedersclass in Sweden: StrandWiks!

From left:
FINUCH, INTUCH, LUCH, NORDUCH StrandWiks Vicki
SCh, NCh StrandWiks Real Sugar
SCh StrandWiks Odette
SCh NCh StrandWiks Estrella

Many thanks to the owners and friends to show your beautiful dogs!

Here is mom & dad,
Monica & Michael;

We have 3 wonderful girls and 2 grandchildren;
Jessica, Johanna & Julia
August 28, 2007 our first grandchild, Emilia was born!
November 4, 2010 our second grandchild, Alexander was born!

We live in Kristinehamn, a city in the county of Värmland (Wermland),
in the middle of Sweden. We've got 250 km to Gothenburg and 300 km to Stockholm.
Here you can see where in Sweden we live!
We bought our first havanese 1991, 1993 we had our first litter and we still love the Havanese!
SUMMER:
We have built this beautiful house ourselves.
We live in the countryside at the forest around us so we have no neighbours.
We usually walks in the forest with all our dogs, rain, sun or snow.
Our dogs are first of all familymembers, not only showdogs!
We usually have 2 llitters/year. We also work outside our home.

We do not ship puppies!
You have to come to Sweden to pick up the puppy.
We can't give you any quarantees it would be a showdog when the puppy is 10 weeks.
In Sweden you can't sell a puppy as a showdog, only petdog.
These 3 girls was the beginning of StrandWiks: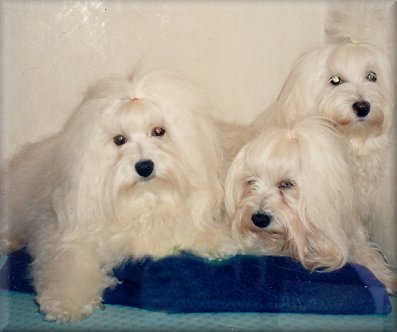 SCh StrandWiks Estrella, SCh Norwegian Winner -94 NUCh Invibe's Betty Boope, SCh StrandWiks Freesia

Enya, Stella, Dennis & Thelma
4 generations of StrandWiks havaneser!

All our dogs have their eyes checked clear, (CERF), heartchecked clear
and PL-tested 0/0 before breeding!

Happy & healthy havaneser!

Bichon Bolognese & Havanese Club: BBHC (SWEDEN)