StrandWiks Red Dragon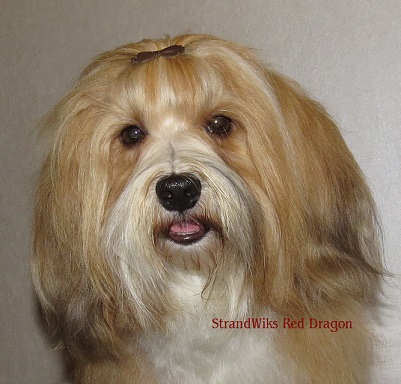 MUSHU
E: USCh Kimbriel's Ombrede Rojo
U: StrandWiks Xara

Född 7/5 -09

Mushu har fått smekamnet efter den röda draken i Mulan.
Fodervärdsavtalet är avslutat.
Mushu bor hos Katja och Banzei.
Banzei är StrandWiks In The Name Of Love.

Patellastatusintyg;
0/0 Normalt

Hjärta:
Hjärtstatusintyg 2010-08-19

Ögonlyst utan anmärkning:
2010-08-27
2011-09-26
2012-08-24
2013-10-10
2015-04-01
2016-03-09
2018-09-20

Sire: AKC CH Kimbriel's Ombrede Rojo
Dam: StrandWiks Xara

Born May 7, 2009

Mushu has got his nickname from the red dragon in the film of Mulan.
Mushu lives with Katja & Banzei.
Banzei, his name is StrandWiks In The Name Of Love

PL-tested:
0/0

Heartstatus clear:
August 19, 2010

Eye tested clear:
August 27, 2010
September, 26, 2011
August 24, 2012
October 10, 2013
April 1, 2015
March 9, 2016
September 20, 2018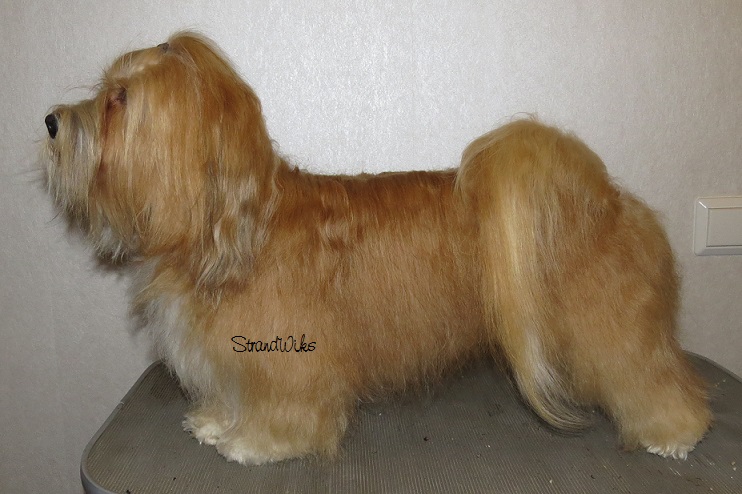 Oktober 2013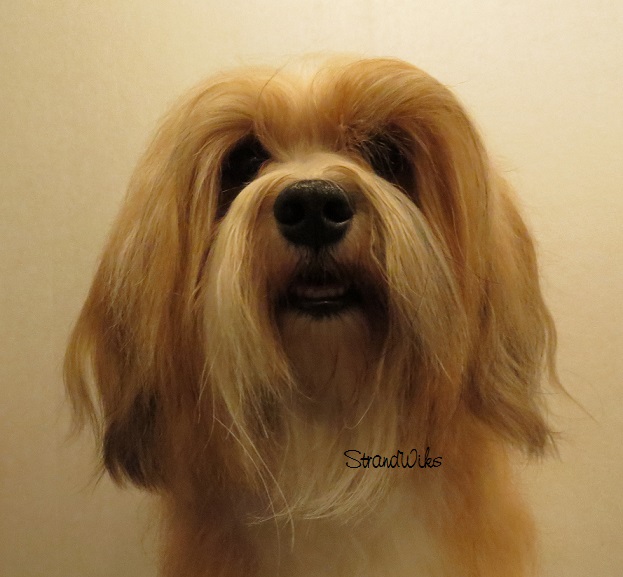 Utställningar/ Shows

Inofficiell utställning i Lindesberg 26/9 2009,
valpklass: 0 tikar - 2 hanar
Domare Lisa Mohlin och gruppdomare Sara Nordin.
BIR-valp
(i gruppfinalen blev han 6:a:-)

Utmärkt typ och helhet, utmärkta proportioner, elegant hane.
Maskulint huvud, härlig uttryck, utmärkt pigment, bra bett, härlig hals/rygglinje,
utmärkt ansatt och buren svans, Bra front/bröstkorg, god vinkel bak,
tilltalande färg, utmärkt pälskvalitet, härliga vägvinnande rörelser,
utmärkt temperament, välvisad!


September 26 2009
Puppyclass: 0 females- 2 males
BOB-puppy
Judge Lisa Mohlin, Sara Nordin

Excellent type, and overall, excellent proportions,
elegant male. Masculine head, lovely expression, excellent pigment,
good bite, nice neck/back line, excellent approach and carried tail,
Good front/chest, good rear angles, pleasing colour, good fur quality,
lovely ground covering movement, excellent temperament, Well showed.

15 november; Inofficiell utställning i Örebro:
Valpklass 1 tik - 1 hane
Domare: Jack Brander
BIR-valp

6 månader hanvalp. Mycket fina proportioner i huvud och kropp.
Tilltalande helhet och resning. Sunda, fina ben och tassar. Lovande!


November 15, 2009
Puppyclass: 1 female- 1 male
BOB-puppy
Judge: Jack Brander

6 months male puppy. Very nice head and body proportions, overall pleasing and
appealing stature. Healthy, nice legs and paws. Promising!

translated by Jusha/Katja!


17 april, officiell utställning i Forshaga, SDHK 2010
Domare Helle Dan Pålsson
2:a
Typ och helhetsintryck Utmärkt/Excellent.

Ung hane som fortfarande behöver utvecklas. Maskulint huvud.
Bra proportioner. Markerat stop. Utmärkt uttryck och bett.
Bra hals. Rak skuldra. Tillräckligt lång överarm. Saknar djup och bredd i kroppen.
Bra länd och svansansättning. Välvinklad bak.
Rör sig lätt, utmärkt bak, något löst fram. Bra pälskvalité.


17 april, official show at Forshaga, 2010
Judge Helle Dan Pålsson
Good
Type: Excellent.

Young male who still needs to be developed. Masculine head.
Good proportions. Pronounced stop. Excellent expression and bite.
Good neck. Straight shoulder. Sufficiently long arm. Lacks depth and breadth of the body. Good lumbar and tail. Well angulated rear.
Moves easily, excellent back, no loose forward. Good coat quality.


9 maj SKK i Larv, 2010
Domare Birthe Scheel

1:a i kvalité och bh-3 i juniorklass.

1 år. Fin storlek. Snyggt maskulint huvud o uttryck. Mörka ögon. Korrekt bett. Acceptabel halslängd. Lite trång fram. Acceptabel överlinje. Välansatt svans. Välutvecklad bak. Fria, livliga rörelser. Pälsen borde dock vara lite längre. Välvisad. Bra temperament.



May 9, SKK official show, 2010
Judge Birthe Scheel

Very good. 3'd best male in juniorclass.

1 year. Nice size. Nice masculine head and expression. Dark eyes. Correct bite.
Acceptable length of neck. A bit narrow in front. Acceptable over the line. Well-set tail.
Well developed back. Free, lively movements. The coat should be a bit longer.
Well presented. Good temperament.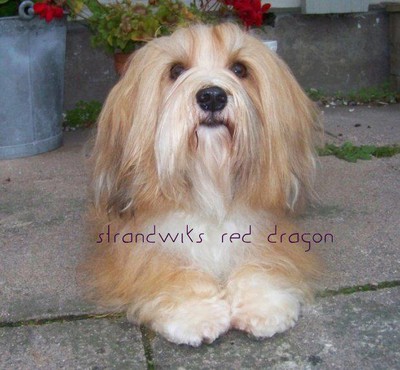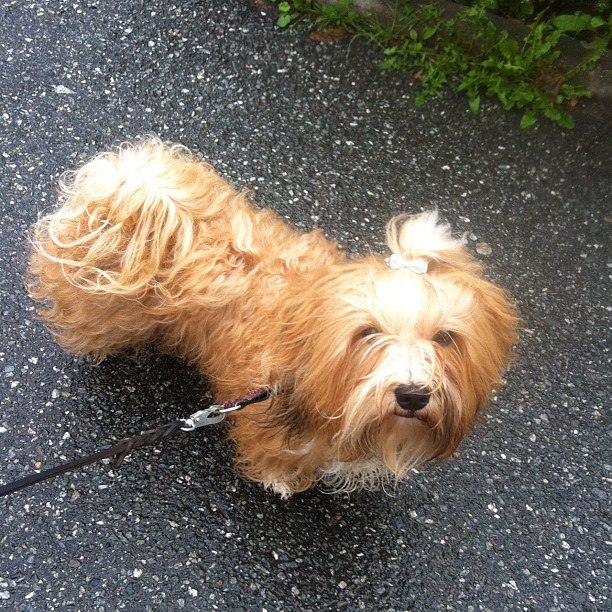 3 år/3 years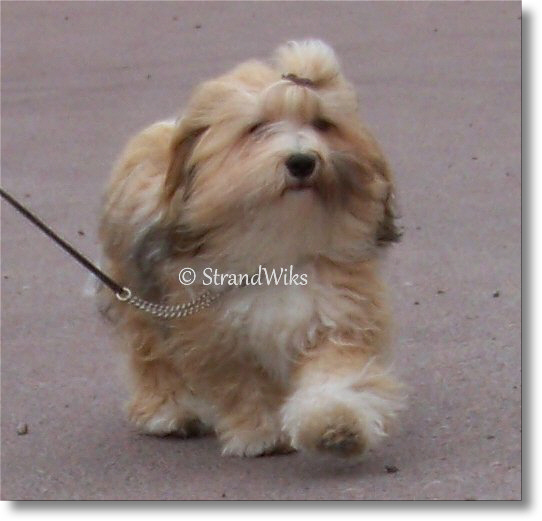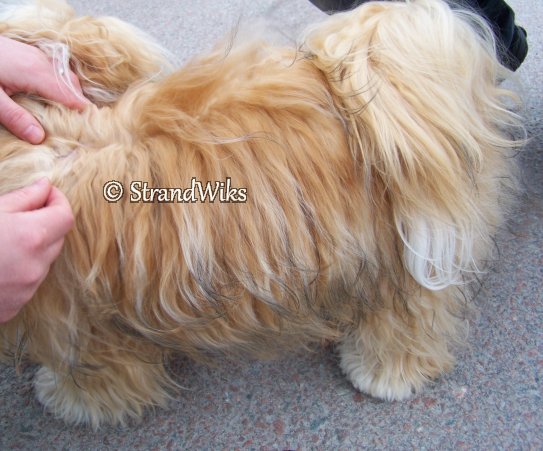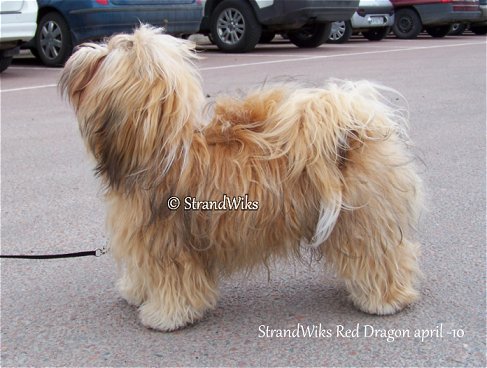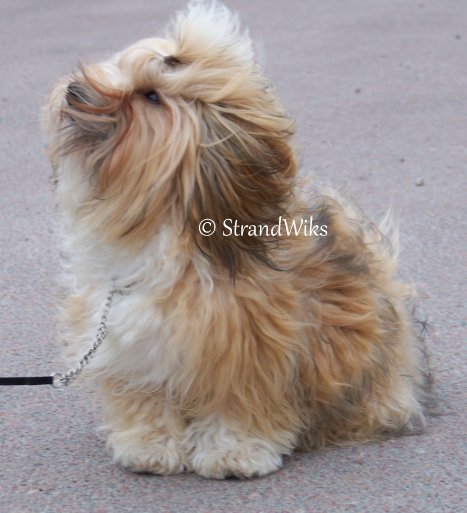 1 år/1 year

9 månader - 9 months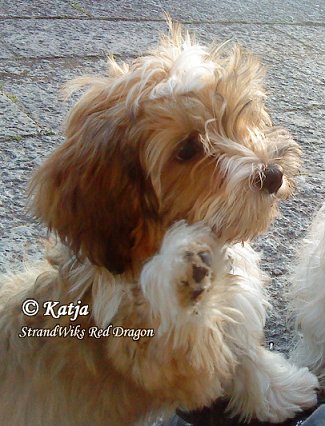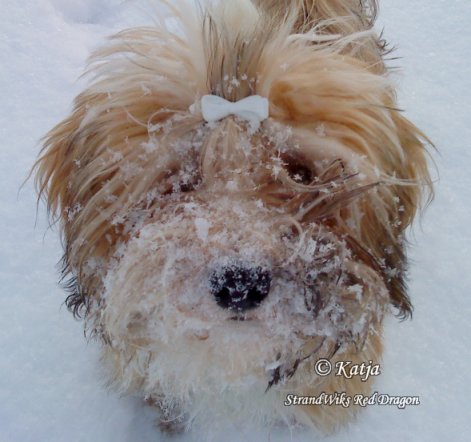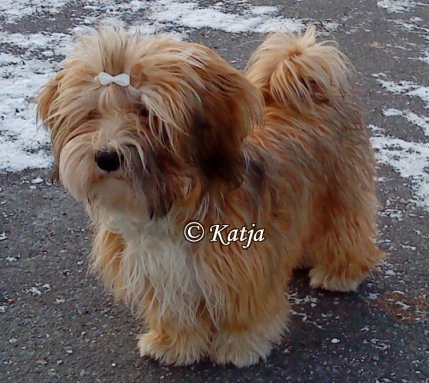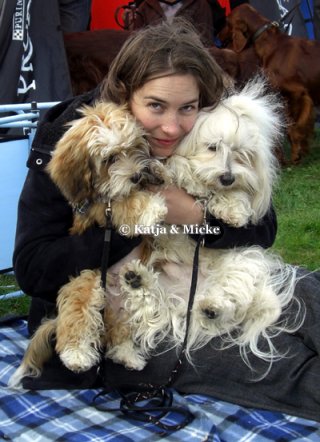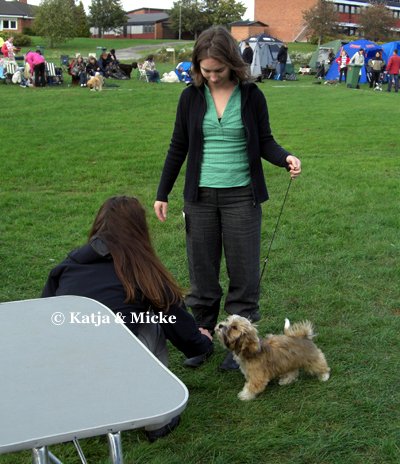 Grattis Katja!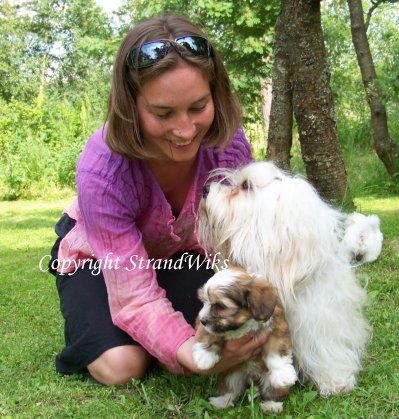 Katja, Banzei och Mushu. Banzei - StrandWiks In The Name of Love