Welcome to StrandWiks - The Wikstrand family!

We got our first dog in 1987, a Bernese Mountain dog. At 1991 the first Havanese came to us.
After all these years, we still love them!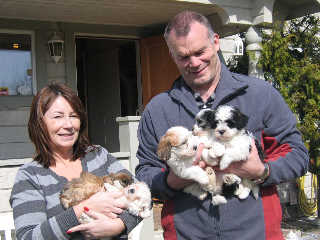 2009
This is our life, a handfull of puppies. Meeting new fans of the havanese, shows and puppies!
If you find the havanese is the breed for you, you can contact us.
We don't ship puppies, you have to come to Sweden and pick up your puppy here.
You can't buy a puppy by mail! We live 250 km from Stockholm, 250 km from Gothenburg an 250 km from Oslo



Monica Rådahl Wikstrand
Fallet StrandWik
S-681 94 Kristinehamn
SWEDEN
00 46 706642471

Our blogg about us!
See the map to StrandWiks